Research sensory centre in  Prague

Despite the existence of highly analytical instruments, sensory quality of a food product cannot be fully assessed only based on the results of instrumental analyses. The result of an instrumental analysis is the determination of the content of a given compound, whereas the result of a sensory analysis is quantification of sensory perception. Sensory perception is a very complicated process. Instrumental results to assess sensory quality may be, therefore, used only in case where relation between measured parameters and given sensory perception is known.
Therefore, Research Sensory Centre was formed at the Research Institute of Brewing and Malting. It consists of two laboratories, sensory and analytical ones. The connection of these two laboratories together with analytical and technical equipment of RIBM makes a unique unit suitable for complex industrial research and development in the area of food industry focusing on beer and other beverages.
Senzory laboratory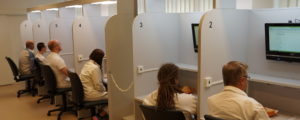 Sensory laboratory is fully equipped in compliance with the regulation ČSN ISO 8589. In an air-conditioned sensory testing room, there are 12 special sensory evaluation booths equipped with the water supply, a drain, and a special adaptable LED panel for color lighting. In each booth there is a signal equipment for the operation, a PC all-in-one for immediate recording of the data of sensorial assessors and the data transfer via s SW and wi-fi network. The supply of fresh air and active removal of smell is ensured. Barrier-free layout of the laboratory, the sanitary facility and a specially adjusted box enable participation of a handicapped assessor on the panel. (Examples of the equipment- see the Gallery).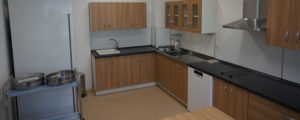 Two preparation rooms are part of the laboratory. Both equipped with all necessary equipment to prepare beverages and wide range of foods, its defined sampling and transportation to the boxes of assessors.
Analytical laboratory of the Centre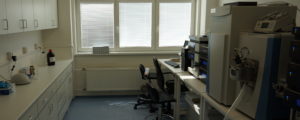 In the laboratory you may find ultra high-performance liquid chromatograph (UHPLC) with mass detector based on Q-Orbitrap principle currently belonging to mass detectors with highest resolution. Moreover, you may find UHPLC with fluorescence and UV detector with high quality of measurement regarding precision and reproducibility as well as cost-effective operation. Illustration of the equipment of sensory and analytical laboratory may be found in the photogalllery.
Senzomics
Synergy connection of a sensory and analytical laboratory together with experimental technological equipment of research breweries enables to develop a completely new way regarding the sensory-chemical analysis of food and beverages, sensomics. By precise and sensitive equipment (mostly gas or liquid chromatograph with mass detector equipped with a software), a sensomics profile of tested food/ beverages may be made. Such profile corresponds with the sensory profile. By sensomics profile, therefore, we may objectively compare organoleptic character of food or beverages samples. In beer, we may precisely describe its bitterness, intensity and, by monitoring a group of sensory active analytes, its character, such as bitter compounds of hop or polyphenols of hop and malt. Via these profiles, we will be in the future able to monitor for example the influence of technological process and used raw materials to the final sensory profile of the product and possibly predict its final taste and aroma, to emphasize its desirable flavors or to avoid unfavorable compounds.
In the sensory center there is a number of other activities:
Industrial research projects
Development and testing of new products
Elementary sensory trainings for secondary schools and universities
Advanced sensory trainings for industrial employees
Sensory quality of products seminaries
Consumer's competitions and tests
Commercial sensory testing
Research sensory center is part of Pivovarský ústav Praha (Brewing Institute Prague).
Evropský fond pro regionální rozvoj   Praha & EU – Investujeme do vaší budoucnosti