Brewing technologies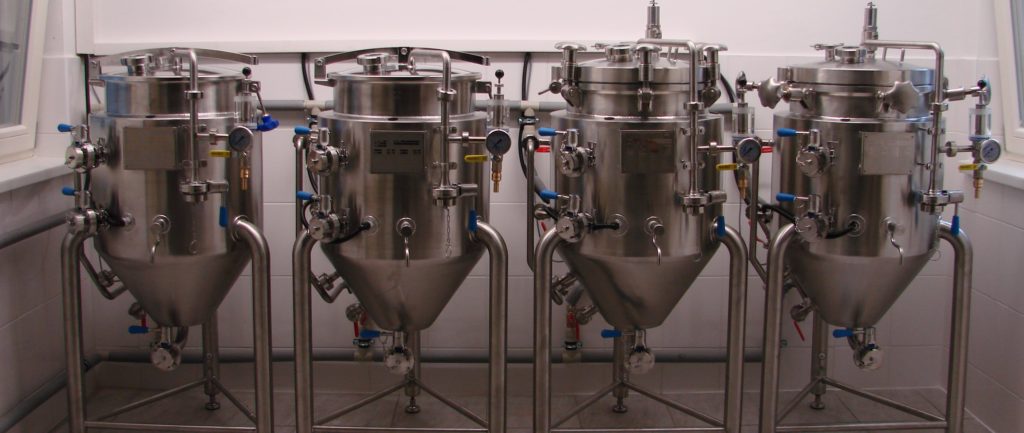 The Institute is equipped with unique pilot scale and half scale brewhouse technologies and equipment. As research and practice meet here, it allows the experts from the Institute to manage a whole range of technology operation tasks and issues in brewing as well as malting.
High-tech equipment of two experimental breweries enables to perform the experiments- verification of procedures in pilot and half scale brewhouse conditions. Two brewhouses (pilot scale ca. 50 L and half scale brewhouse of 2,5-3 hL) are highly automatized and almost all modern brewing procedures might be simulated using them. Controlled fermentation is performed under defined temperature and pressure conditions in stainless CKT. From these, beer may be filtered, filled in the barrels or bottles, automatically manage its degree, carbonate and manage its oxygen volume.
In experimental breweries may be under defined conditions performed a wide range of experiments to verify or develop new products and technology procedures. For example, to test the influence of water, malt, hops, and surrogates to the beer quality, to compare various brewing procedures, to perform half scale testing before launching a new product into the production, to test detergents, etc. in lower volume under strictly defined conditions, it is possible to develop and verify new types of products, including the preparation of promo samples.
The experts of the Institute may be helpful finding solutions to many problems such as:
Optimization of process standards and allowance in brewing and bottling in transport packaging.
Optimization of standards and allowance for ingredients and packaging.
Audit of the production focused on the improvement of basic sensory parameters of beer, e.g., color, foam, bitterness, clarity, sensory stability.
Audit focused on production standards.
Comparison of drinkability of beer with competitive brands.