Pilot scale experimental brewhouse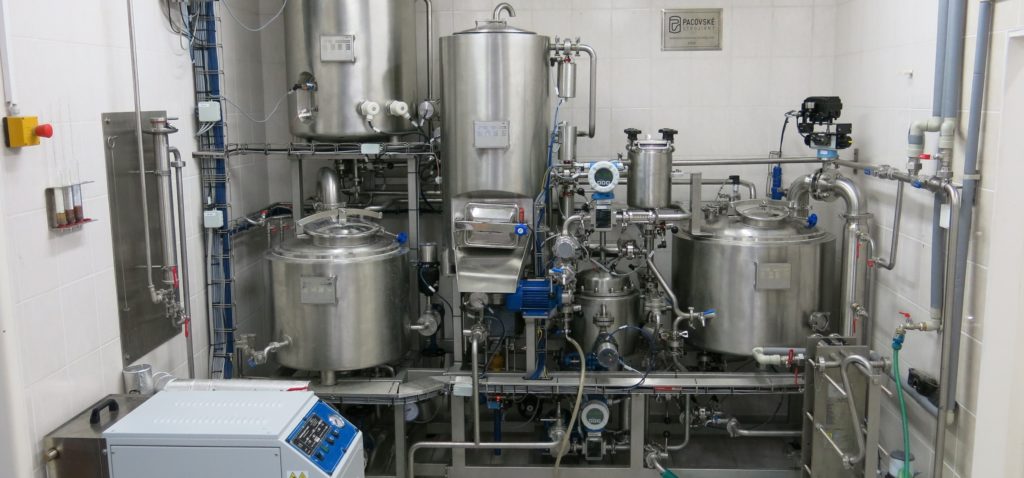 Three-vessel device with the volume of boiled wort of 50 L. Such equipment as a whole is, regarding its size, capable of performing brewing procedures.
Whole device is fully automatized and run by a computer. Heating is ensured by a steam generator. It is possible to program all its operating features within the device itself.
The device was provided by a company Pacovské strojírny within a partnership cooperation in the European project MUSE-Tech.
The whole consists of six vessels in total, three of them being auxiliary ones, a reserve tank for hot water, a hop batcher, and an external boiler. The hop batcher is equipped with a false bottom in order to batch cone hop.
Whole process in fully operated by a computer which enables high reproduction of single batches despite the small scale.
In this brewhouse it is possible to mash in all common manners, from infusion to three mash methods. For these purposes, it is possible to program the speed of boiling, the speed of stirrer, and the speed of transferring mash. Heating of the brewhouse is done via an external boiler.
The bottom of the lauter tun is loaded in a similar manner as in big brewhouses (approx. 130 kg/m2). To better simulate the process, the tun is equipped with height adjustable mashing rake, which is unique to such a small device. Lautering is managed according to the differences of pressure and according to the clarity, which with the testing batches reached 30 EBC units at the firstwort and below 10 EBC units at afterwort.
The process of wort boiling can be managed according to the three basic procedures. A common atmospheric wort boiling, low-pressure wort boiling, dynamic pressure wort boiling. The highest overpressure for wort boiling is 250mBar. The pressure increase and decrease are operated by a computer.
There are special entries for sensors in the walls and the lid of the vessel of experimental brewhouse, which enable inserting various types of sensors directly into the vessel while brewing. Such unique setting might be used when testing sensors and measuring devices during brewing, which was proved in the project MUSE-Tech.
.